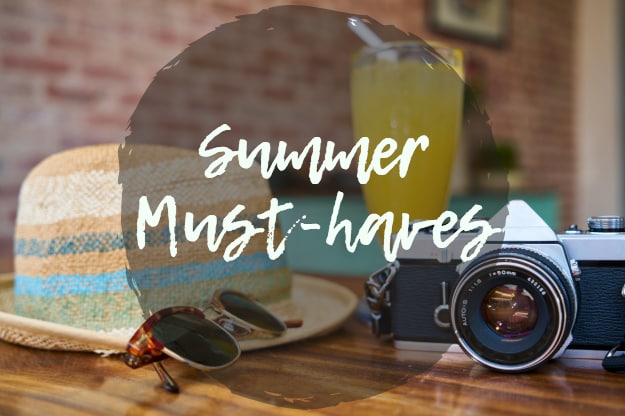 We know that the sun graces us year-round here in Albuquerque, but summer is still a super special time. It's the reemergence of flip-flops, snow cones, and that jammin' playlist you've been working on. We've compiled a few additional seasonal, must-have accessories that will help you to live your best life over the next few months. Check it out:
1. Sunscreen. No, your mom didn't call us to remind you about this. But it truly is so important. It protects you from dangerous UV rays that cause skin damage, fatigue, and even cancer. It doesn't have to be gloopy and white, though! There are some great products out there that will have you feeling like Wendy Peffercorn. Vogue has some great suggestions, from Neutrogena Ultra Sheer to classic Coppertone. Slather it on first thing in the morning and you're good to go. Your skin will thank you!
2. The perfect pair of sunglasses. When you find the right pair of sunnies, you feel more euphoric than Tom Cruise as Maverick in "Top Gun." From Amazon to Nordstrom, there are so many outlets to explore when it comes to sun accessories. You'll protect your eyes while looking fabulous—what a win-win situation! Plus, that means you can store them in the sunglass holder of your new Hyundai Elantra.
3. A spectacular new taco recipe. There is just no beating a plate of fresh tacos in the summer. We found a great recipe that's guaranteed to wow your friends and family. Health.com can teach you how to make sizzling Oaxacan Shrimp Tacos in just 20 minutes! This is a great dish for a quick after-work meal or a 4th of July gathering. Get cooking!
4. A trip on the Sandia Peak Tramway. Skip the heat for a day and climb aboard Albuquerque's famous tram. It takes you on a 2.7-mile round trip journey to scenic Sandia Peak. Once you reach the top, treat yourself to an unbeatable view of the Land of Enchantment and the Rio Grande Valley. Also, this is a perfect day trip for families or those seeking to do a little hiking!
5. A new Hyundai Elantra is one of the best seasonal accessories to date. Not only is it incredibly durable and stylish but also it's efficient and affordable. This summer must-have is in stock at our dealership—stop by once you finish scrolling through our online inventory!
All of these ingredients combine to make the perfect Albuquerque season. Make sure to post pictures of yourself with your sunscreen and sunglasses in your new Elantra! Save a taco for us when you drive safely home.