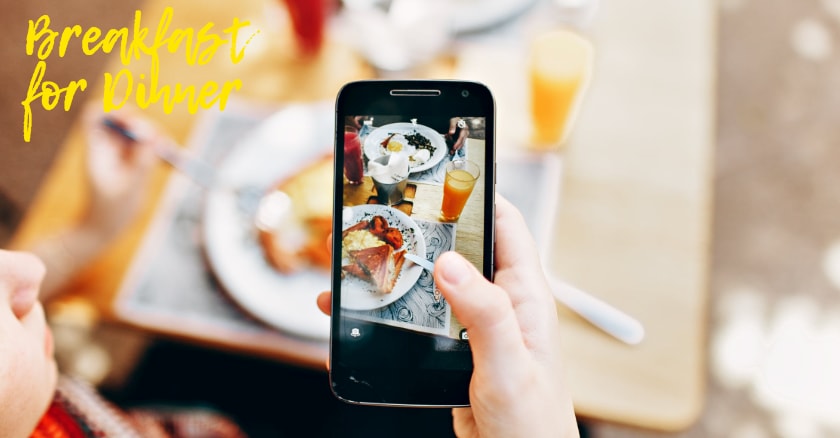 It's the most important meal of the day, but does it always have to be something swimming in syrup and loaded with carbs? Yes and no. The carbs are a great way to start off your day with lots of energy, but the syrup, no. Don't get us wrong! We are firm believers in the five food groups of Buddy the Elf, but we also have come across some great alternatives to the pancakes and eggs that energize and motivate us.
It's common to have breakfast for dinner, but have you ever thought about having dinner for breakfast? That has been the entire basis of these three reimagined dinner favorites to hit your breakfast table. Fasten your seatbelts folks; your taste buds are about to be taken for a ride!
HIGH PROTEIN BREAKFAST NACHOS
Prep time: 35 minutes
Serves: 8
Ingredients:
· 3 large red bell peppers
· 1 ½ cup liquid egg whites or 8 whole egg whites
· 1 cup Jimmy Dean Breakfast Turkey Sausage Crumbles or substitute bacon
· 4 oz. (1/2 block) cream cheese or ½ cup fat-free Greek yogurt
· ¼ cup salsa
· ½ cup fat-free shredded cheese
· 1 jalapeño
For complete instructions visit here.
Jump on the bandwagon with these high protein breakfast nachos, proven to give you all the energy you need to make it through the day. Or at least to lunch.
BREAKFAST SUNDAES
Prep time: 5 minutes
Serves: 4
Ingredients:
· 4 waffle cone bowls
· ½ cup chopped fruit
· 2 cups Greek yogurt
· ¾ cup Cheerios™? cereal
· 1 tablespoon sprinkles
· 1 tablespoon mini chocolate chips
· 1 tablespoon sliced almonds
· 4 strawberry halves for garnish
Visit here for complete instructions.
Sure, this might cross more into dessert territory, but it still appeals to the sweet tooth in all of us without being completely unhealthy. Coming in at only 252 calories per serving, it invites all of us to indulge a little.
SAUSAGE GRAVY BREAKFAST PIZZA
Prep time: 40 minutes
Serves: 8
Ingredients:
· 2 packages crescent rolls
· 1 package cooked sausage crumbles
· 1 envelope country gravy mix
· 6 eggs
· 2 tablespoons milk
· ½ teaspoon salt
· ¼ teaspoon pepper
· 1 tablespoon butter
· 8 oz. shredded cheddar cheese
· 4 oz. shredded pepper jack cheese
For complete instructions visit here.
Breakfast pizza has been around for a long time, but there are still some recipes that are better than others. This one is pretty dang good, combining all our favorite things about an omelet in the morning with biscuits and gravy on the side.
By paying more attention to what you eat for breakfast, you are sure to see an improvement in your day. We know you're probably going to be enjoying breakfast while driving to work, which means some unwanted messes. In that case, bring your Hyundai into our service department to get a full detail. We can clean up after a coffee spill and any other unforeseen spills. We promise it will make your car feel like new—you'll fall in love with it all over again.