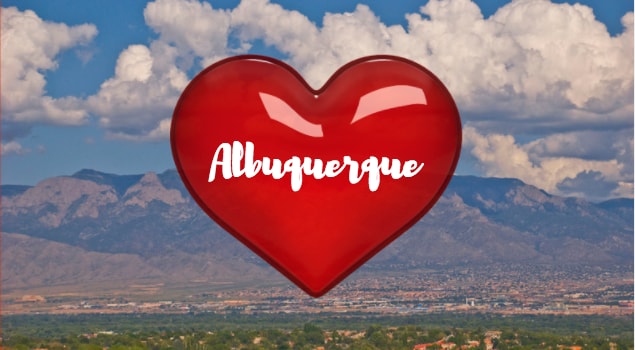 In the spirit of Valentine's Day, our team has come up with four reasons why they love ABQ.
1. Let's talk about the mountains. The Sandias are the most unique set of mountains in the state. Depending on the weather and the sun, they can range in color from blue to purple, orange and pink, to gray accompanied with clouds. They act as a point of reference and constant backdrop to the city, leaving an unforgettable impression on all who see them.
2. We have some of the best air to breathe in the nation. Our small "big city" gives us the best of both worlds. We have all the amenities of a large city without all the drawbacks. There's rarely traffic and we're ranked as one of the top ten cities with the best air quality in the U.S.
3. The weather is downright incredible. Albuquerque delights us with an average of 310 sunny days per year. We live in a desert, so the humidity is very low. That makes for survivable winters and comfortable summers. Our days basking in the sun coupled with four distinct seasons creates days that are nothing short of ideal.
4. The incredible weather that is so near and dear to our hearts has made ABQ home to the largest hot air balloon festivals in the world— The Albuquerque International Balloon Fiesta. The nine-day event paints the sky with over 500 brightly colored balloons. Pictures don't give the event enough justice. To truly experience it is to walk below and see the vastness of the sky filled with the indescribable mass of balloons slowly moving through it.
We understand these great things about our city barely scratch the surface of its true magic. We also understand that a broken-down car inhibits you from taking advantage of all that ABQ has to offer. That's why we're offering our best service specials of the year throughout the rest of February. Coming to Larry H. Miller Southwest Hyundai Albuquerque will guarantee that your vehicle's maintenance is done by an experienced and professional technician, so you can explore your love of our fine city without stressing over your vehicle's health.