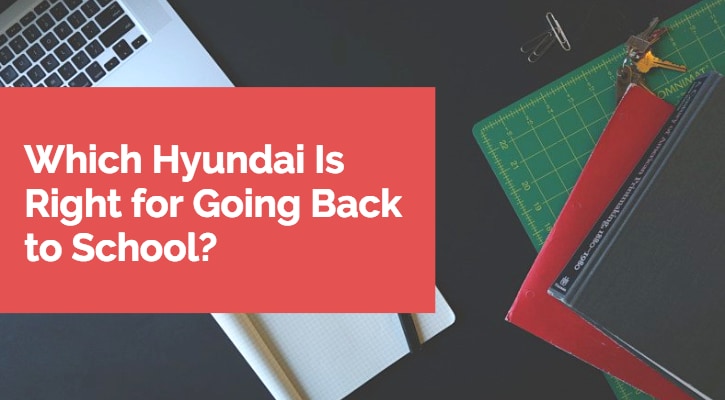 Back-to-school season is upon us, and that means a lot of carpooling and commuting, especially for the college-bound. Parents and students of all ages have special back-to-school needs, and you'll find that there is a Hyundai out there for your next school experience.
2018 Hyundai Sonata
If you're a parent sending off your pride and joy to college but want them to stay safe in a new car, look no further than the Hyundai Sonata. One of the biggest reasons this should be topping your shopping list is affordable pricing. This beautiful sedan boasts a base MSRP of around $22,000 with a roomy interior, a spacious back-seat, and safety measures to ensure your young adult will be able to return home for a visit soon.
The Sonata hosts side-curtain airbags, front-side airbags, and anti-lock brakes to keep you safe inside. Meanwhile, Standard Blind Spot Detection with Rear Cross-traffic Alert will keep your car safe from outside forces. For a little extra, the Sonata Sport even adds a backup camera.
2018 Hyundai Tucson
If you're looking for a little more space in your Hyundai for all those textbooks or for driving your own young student to school, the Hyundai Tucson might be the Crossover/SUV you need.
This vehicle was designed with efficiency in mind and makes the most space out of what it has to work with. Its standard 60/40 split fold-down rear seatback can turn your car into a storage machine, which can be great if your back-to-school experience requires a road trip.
You can drive easy, too, knowing these models were designed with standard front crumple zone, bodyside reinforcements, and an Anti-lock Braking System (ABS) with 4-wheel disc brakes to keep you safe along the way. That attention to safety is just another reason we love the Hyundai Tucson.
2018 Hyundai Kona
If you're looking for something new from Hyundai, look no further than the first-ever 2018 Kona. Here's a vehicle with enough space for your friends, decent fuel efficiency, and a low entry price.
This Crossover starts at $19,500 for the Front Wheel Drive SE model and boasts an EPA Mileage Estimate of 27/33/30. That means whether it's carpooling your little one and their friends to elementary school or commuting to your own classes, you can save more of your gas money for a rainy day.
College students and parents will also love the easy-to-use standard 7-inch color touchscreen display and audio system. The infotainment system packs Apple CarPlay and Android Auto, ideal for phone-toting drivers, and also features plenty of safety features so you can keep your eyes on the road.
No matter what car you choose to support you in your back-to-school endeavors, you can find what you're looking for at Larry H. Miller Southwest Hyundai Albuquerque. If you come between July 30 and August 9, you can also help us support students in need with our Back to School Supply Drive. Just visit our website to see what supplies the schools in your area are still asking for.